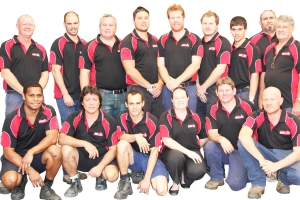 Vision
Continue to develop a community focused company, that supports growth, lifestyle and opportunity
Our Mission
To provide exceptional service, solving all aluminium problems promptly
To provide the best aluminium education to all young talent through apprenticeships
Established 1971 continuing a proud community involvement
Continue to do the unique projects that no one can do
Creating opportunities for employees to work in the best aluminium workshop in Australia
Our Workshop
Norweld are proud of their impressive design and workshop facilities.
Our small fabrication,repairs and material sales workshop is located in Cairns at 9 Ogden Street in the suburb of Bungalow. Norweld Aluminium have a top quality fabrication equipment and workshop machinery to ensure that every job meets rigorous quality, presentation and supports our life time manufacturer's warranty
Norweld has a wide range of equipment over our two sites to meet all the needs of our customers – services include:
Press Brake with NC control 3.2M x 120 tonne, for all your pressing requirements
Guillotine 3M x 10mm aluminium capacity, for all your cutting needs
Ercolina Tube Bender up to 60mm diameter pipe, for all tube and pipe sizes
Fronius TPS 2700 Pulse mig welders for clean and crisp mig welds
Miller Dynasty Tig Welders 300 amp for the tig welding
Plasma Cutter 2.5M x 6M bed with a cutting capacity of 25mm steel and aluminium with our Hypertherm plasma cutter.
Solidworks – for all your design needs
The site is 800m2 in total with 400m2 under roof, to store your prized possessions with safety.
Key Staff:
Steve Umback – Project and Design Manager Ute Trays and Canopies. 
Steve has been employed at Norweld since 2002. He has exceptional trade skills and knowledge in all aspects of aluminium design and fabrication.Steve has a keen  engineering interest in all things aluminium. He has taken an active role in Norweld's movement into CAD and CNC Plasma Cutting and more recently Solidworks. The team at Norweld look up to Steve for his leadership and knowledge when it come to design, fabrication and repairs. Steve facilitates the project management of all our large fabrication projects to ensure critical deadlines are met and we exceed customer expectation.
Levi Ziegelbauer – Manager Ogden Street. 
Levi has been employed at Norweld since 2002. Levi is attentive to all customers needs to make sure that the job is done right the first time. He has an understanding of the rigours and demands placed on the workshop to get the jobs out on time. He places special emphasis on material only sales for all our cash and account customers and is an expert in aluminium extrusion and plate and is able to source hard to find aluminium products. Levi recently finished his Diploma in Business Management.
Isaac Edmiston – Ute Trays and Canopies Sales and Marketing Manager.
Isaac came to Norweld with extensive customer service and hospitality experience. He took on a mature age apprenticeship which allowed him to become one of our leading trades person in the team.He has recently taken on the project of Norweld's heavy duty ute tray and canopy division. His ability to  liaise with customers has seen him become a core member of the Norweld team. He takes an active role in all customer builds and works  to deliver the best Norweld product possible for all customers. His product and design knowledge ensures our customers are delivered the desired motor vehicle build to suit their individual needs.
Jaime McIntosh – Managing Director. 
Jaime has worked in the business since 1987. He has risen from casual work in the school holidays to now owning the business. After taking over the company in 2001, the company has grown threefold. His willingness to expand and move into new markets, has stood the business in good stead. He also has cemented the previous strong brand of the business. He stands by Norweld's lifetime guarantee against faulty workmanship.